Visiting this inn is like entering a Magic Town, has a simple and minimalist decoration that falls in love with you; The bright green on the chairs and tables contrasts with the wood, then the hexagonal mirrors here and there, creating a honeycomb effect with the floor extending to a quarter of the wall. There is an enticing aroma of Mexican food from the entrance that tells you about the culinary experience that awaits you.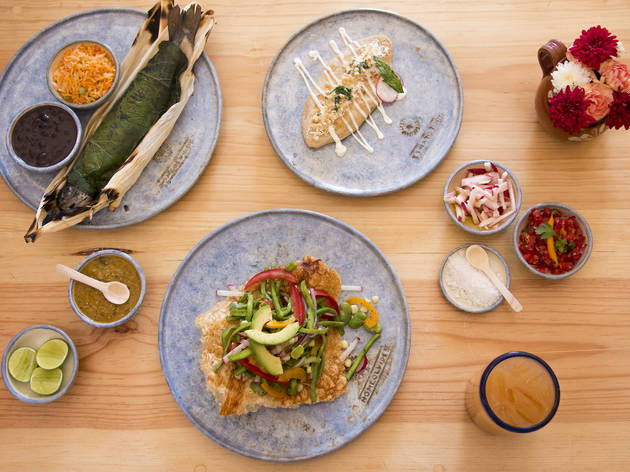 To begin with, the waiter recommended me a handcrafted apple refreshment, brought from Zacatlán de las Manzanas, Puebla; The difference with commercial products is immense. From the food menu I ordered the noodle soup with marrow (a must) and a tlacoyo of cottage cheese and scam.
The soup transported me to a hard meal and the small pieces of marrow completely changed the composition of the saucer. I found the dough of the tlacoyo a little dry, but the combination of quelite, escamoles and cottage cheese was perfect to complement with a guava water with mint. Both dishes were examples of the simple and well done; The flavors of each element of the dishes highlighted when passing through the mouth and the exact portions to continue eating without bursting.
To finish I asked for a loaf of the shelf, it was a little horn with chocolate on top, the homemade dough prepared with care and full of flavor. I accompanied him with a ball of vanilla ice cream, strawberries and a cookie sheet.
Forget it is a paradise of Mexican dishes, it is important to highlight the execution of Juan Carstensen in the kitchen, who with good taste and culinary technique achieved that every detail fulfilled the tradition of recipes and in the contemporary concept.
Ask for the menu of the day, in which you can choose soup, water of the day and main course, with a very affordable price for food that is worth trying.